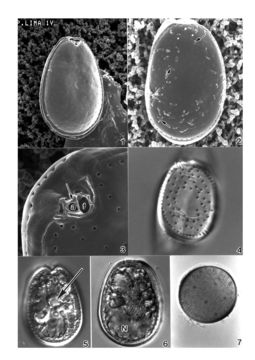 Description:
Plate 43. Prorocentrum lima. Figs. 1-3. SEM. Fig. 1. Right valve. Cells oblong to ovate with narrowed anterior. Marginal pores and scattered surface pores present; valve center devoid of pores. Intercalary band smooth and wide. Fig. 2. Left valve; bacteria attached (arrows). Fig. 3. Periflagellar area: shallow, broad, V-shaped depression on right valve. Flared periflagellar collar encircles auxiliary (a) pore (arrow); larger flagellar pore (f) adjacent (after Faust 1991). Figs. 4-7. LM. Fig. 4. Thecal pore arrangement. Fig. 5. Right valve with central pyrenoid (arrow). Fig. 6. Left valve and posterior nucleus (n). Fig. 7. Triple-layered resting cyst. (Figs. 1,2,4-7 after Faust 1993c)
Included On The Following Pages:
This image is not featured in any collections.
Source Information
bibliographic citation

Faust, Maria A. and Rose A. Gulledge. Identifying Harmful Marine Dinoflagellates. Smithsonian Contributions from the United States National Herbarium, volume 42: 1-144 (including 48 plates, 1 figure and 1 table).
original

partner site

ID

NMNH_dinos_581