Cochlostoma-canestrinii-map-eur-nm-moll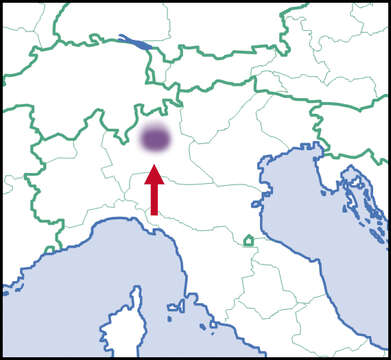 Description:
Description: English: Cochlostoma canestrinii (Adami, 1876). Distributional range in Europe, scientific state of knowledge of 2012. Source description in English. Light colour indicated rare occurrences or regions where the species could eventually be expected to occur. Dark colour indicated relatively reliable occurrences, as well as regions where the species was expected to occur, and where the species was not known to be extremely rare. Dark colour indications were not necessarily based on published records. Species summary in AnimalBase Deutsch: Verbreitung in Europa, Kenntnisstand von 2012. Quellenbeschreibung auf deutsch Español: Distribución en Europa, nivel de conocimiento de 2012. Descripción de la fuente en español Français : Repartition en Europe, niveau de connaissance de 2012. Description de la source en français Italiano: Distribuzione in Europa, livello di conoscenza del 2012. Descrizione della fonte in italiano Português: Distribuição na Europa, nível de conhecimento de 2012. Descrição da fonte em português Čeština: Distribuce v Evropě, úroveň znalostí v roce 2012 Polski: Dystrybucja w Europie, poziom wiedzy z 2012 roku Русский: Распространение в Европе, уровень знаний в 2012 году. Date: 28 September 2012. Source: Distributional range map as published in Welter-Schultes, F. 2012: European non-marine molluscs, a guide for species identification. Pp A1-A3, 1-679, Q1-Q78. Author: Francisco Welter-Schultes.
Included On The Following Pages:
This image is not featured in any collections.
Source Information
original

partner site

ID

a06e59012e017a5dcdfa1a61096f8028