Chaetorellia jaceae (Diptera: Tephritidae) - Bohrfliege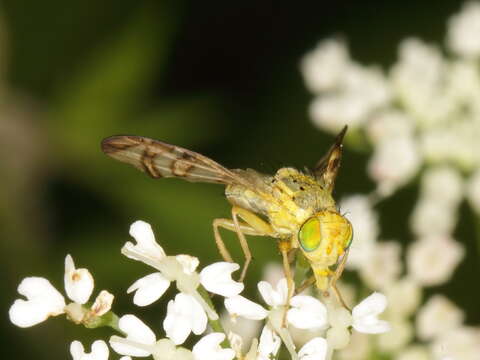 Description:
The larava live in the heads of Cirsium (thistle)Die Larven leben in den Kpfen der Kratzdistel (Cirsium, Asteraceae).Phylum: Arthropoda LATREILLE, 1829 (arthropods, Gliederfer)Subphylum: Hexapoda BLAINVILLE, 1816Class: Insecta LINNAEUS, 1758 (insects, Insekten)Subclass: Pterygota LANG, 1888 (Fluginsekten)Infraclass: Neoptera Martynov, 1923Order: Diptera Linnaeus, 1758 (true flies, mosquitoes & gnats, Zweiflgler)Suborder: Brachycera SCHINER, 1862Infraorder: Muscomorpha [Syn.: Cyclorrhapha]Superfamily: TephritoideaFamily: Tephritidae MACQUART, 1835 (fruit flies, Frucht- oder Bohrfliegen)Subfamily: Tephritinae MACQUART, 1835Genus: Chaetorellia HENDEL, 1927Chaetorellia jaceae ROBINEAU-DESVOIDY, 1830[det. Gerdt Gingko, 2013, based on this photo]more info (German): www.insektenbox.de/zweifl/chajac.htmfood plant: ?Order: Family: Subfamily:Tribe: Genus: (xxxn)Central Germany, N-Hesse, Bad Hersfeld: Ottrau, ca. 300-400m asl., 10.06.2012IMG_1143
Included On The Following Pages:
This image is not featured in any collections.
Source Information
original

partner site

ID

d5417ba896509f806e698a5b3e261513