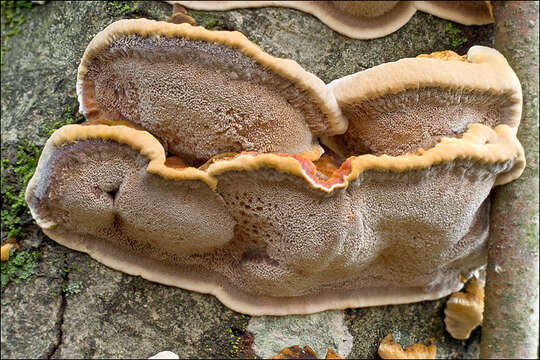 Description:
Inonotus radiatusAlder BracketSlo.: jelev luknjaDat.: Oct. 27. 2011Lat.: 46.33122 Long.: 13.52793Code: Bot_566/2011_IMG7241 Habitat: Mixed wood side, rich mixture of Fagus sylvatica, Picea abies, Alnus incana, Ostrya carpinifolia, Corylus avellana, etc.; W inclined hill slope, cretaceous clastic rock (flysh) bedrock, half shade, partly protected from direct rain by tree canopies, average precipitations ~ 3.000 mm/year, average temperature 8-10 deg C, elevation 425 m (1.400 feet), alpine phytogeographical region.Substratum: dead but still standing trunk of a small Alnus incana. Place: Bovec basin, W of station A of Mt. Kanin cable car, East Julian Alps, Posoje, Slovenia EC Comments: Growing in a large group. Cap dimensions up to 7 cm (3 inch) long, 3,5 cm (1.4 inch) wide and 3 cm (1.2 inch) thick. Smell indistinctive, flesh corky, moist, relatively soft and easy to cut. Upper surface of vivid colors: golden-brown (oac755 -oac713), ocher brown (oac803), red (oac670). Pore surface brown (oac708) with silvery-gray flesh. SP faint, yellowish (?). All vivid colors of the cups' upper surface faded to brown in 12 hours after cut of. Trama instantly goes black in 5% KOH. Spores smooth, dimensions: 5.8 (SD = 0.5) x 3.8 (SD = 0.3) micr., Q = 1.55 (SD = 0.12), n = 30. Large fusoid hymenial setae scattered. Ref.:(1) A.Bernicchia, Polyporaceae s.l., Edizioni Candusso (2005), p 284. (2) R.Phillips, Mushrooms, Macmillan (2006), p 310. (3) www.mushroomexpert.com/inonotus_radiatus.html .(4) M.Bon, Parey's Buch der Pilze, Kosmos (2005), p 320. (5) Personal communication with Mr. Bojan Rot.
Included On The Following Pages:
This image is not featured in any collections.
Source Information
license

copyright

Amadej Trnkoczy
original

partner site

ID

46421be0dc19bb28886b3583e4487778