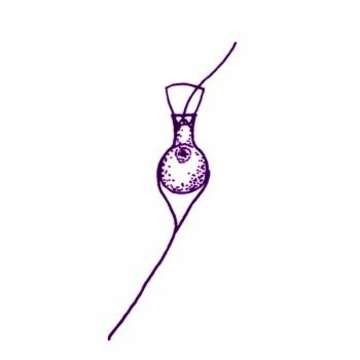 Description:
Salpingoeca huxleyi Ellis, 1930. Cell globular. Body of lorica egg-shaped, with a wide, sturdy neck which bulges towards its own base. This neck appears to be marked off, at its actual base, from the lorica proper by a costa-like ring. This ring is probably an optical effect due to the lorica neck being set in a shallow depression or in-fold of the lorica body. A further peculiarity is that the neck of the cell is never extended beyond the distal limit of the lorica neck, so that the base of the collar is always within its everted rim. Collar and flagellum normal. Nucleus conspicuous. Contractile vacuoles: two. Peduncle length variable. Length of body of lorica: 8 microns Length of neck of loriea: 4 microns Width at centre of neck of lorica: 3 microns Greatest width of lorica: 6.5 microns Peduncle length: 16-32 microns
Included On The Following Pages:
This image is not featured in any collections.
Source Information
author

Won Je Lee

provider
original

partner site

ID

27473253